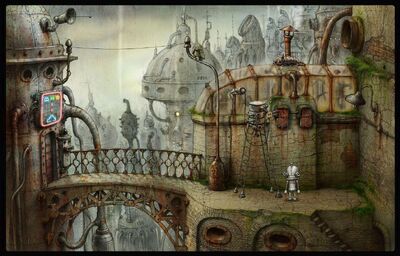 The Arcade Bridge is the fifteenth level in the game.
Main Features
Bridge
Metal railing on the bridge
Arcade entrance door
Arcade ticket machine
Electricity pole
Electricity pole overhead wire
Electricity pole access door (mini-game)
Large open pipe
Machinery room with glass roof
Soldering iron
Soldering iron plug and socket
Two junction boxes with red wiring
Characters
Inventory Items (2)
Mini-games
Quests
To get the Puzzle Piece from the Bird
To catch the Cat
To get into the Games Arcade
Ad blocker interference detected!
Wikia is a free-to-use site that makes money from advertising. We have a modified experience for viewers using ad blockers

Wikia is not accessible if you've made further modifications. Remove the custom ad blocker rule(s) and the page will load as expected.