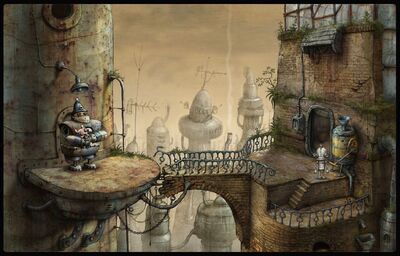 The Castle Bridge is the twenty-second level in the game.
Main Features
The bridge leading from the Glasshouse to the Castle elevator
Oil making machine
Climbing pole
Elevator door
Door to the Glasshouse
Characters
Inventory Items (2)
Mini-games
Quests
To get some sunflower-oil
To help the guard and his pet
To get into the Elevator
Ad blocker interference detected!
Wikia is a free-to-use site that makes money from advertising. We have a modified experience for viewers using ad blockers

Wikia is not accessible if you've made further modifications. Remove the custom ad blocker rule(s) and the page will load as expected.