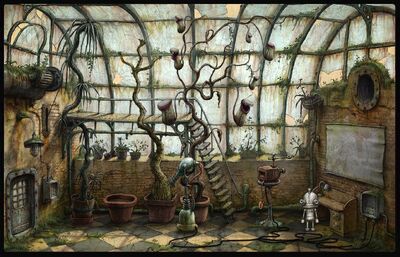 The Glasshouse is the twenty-first level in the game.
Main Features
Large entry pipe
Wooden desk with drawers
Glasshouse control panel (mini-game)
Slide projector
Slide projector screen
Steps leading up to staging
Large plants in flowerpots
Mobile sunlamp
Big flowerpot full of soil
Locked exit door
Door lock (mini-game)
Characters
Inventory Items (5)
Mini-games
Quests
To get some Sunflower Seeds
To get out of the Glasshouse
Ad blocker interference detected!
Wikia is a free-to-use site that makes money from advertising. We have a modified experience for viewers using ad blockers

Wikia is not accessible if you've made further modifications. Remove the custom ad blocker rule(s) and the page will load as expected.