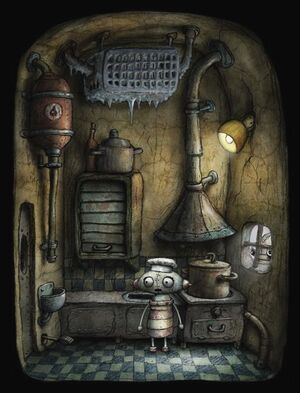 The Kitchen is the eighteenth level in the game.
Main Features
A kitchen
A small window with Josef outside
Fuel dispenser
Air conditioning unit
Cupboard
Cooker with a hot hob
Large cooking pot with lid
Extractor hood over cooker
Vent pipe from extractor hood
Popcorn
Characters
Berta's Inventory Items (4)
Mini-games
Quests
To get the Long Metal Hook from Josef
To get a fuel Hosepipe
To give the fuel Hosepipe to Josef
Ad blocker interference detected!
Wikia is a free-to-use site that makes money from advertising. We have a modified experience for viewers using ad blockers

Wikia is not accessible if you've made further modifications. Remove the custom ad blocker rule(s) and the page will load as expected.