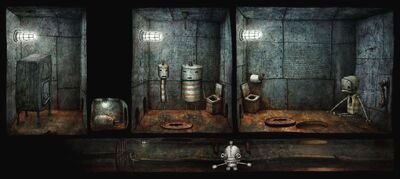 The Prison Cells is the fifth level in the game.
Main Features
Toilets
Toilet paper
Electric lights
Tap
Rodent hole
Manhole covers
Maintenance tunnel
Prison safe
Characters
Inventory Items (8)
Mini-games
Quests
To escape from the prison cells
Ad blocker interference detected!
Wikia is a free-to-use site that makes money from advertising. We have a modified experience for viewers using ad blockers

Wikia is not accessible if you've made further modifications. Remove the custom ad blocker rule(s) and the page will load as expected.