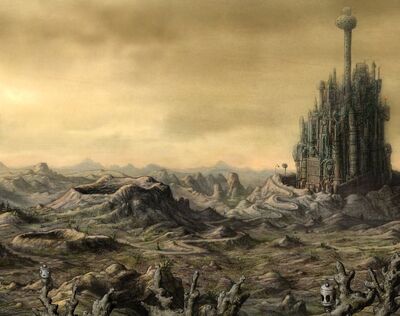 The Winding Road is a Location in the game.
The Winding Road can be found in the wasteland outside the City. It goes from the Junkyard to the Drawbridge of the City Gate.
Description
Edit
As the name suggests the Winding Road is a long road or track that winds through the hilly terrain outside the City. When it nears the City it climbs the steep slope up to the Drawbridge in a series of convoluted zig-zag turns.
The Flying Robots can be found hanging out near the Winding Road.
The Mean Guard is first encountered following Josef along the Winding Road.
Ad blocker interference detected!
Wikia is a free-to-use site that makes money from advertising. We have a modified experience for viewers using ad blockers

Wikia is not accessible if you've made further modifications. Remove the custom ad blocker rule(s) and the page will load as expected.